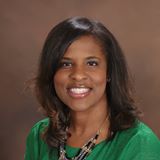 Natolie Gray is the Lead Therapist and CEO of InPowerment. She wants to guide you take charge of your life. She possesses an unique gift and a sincere passion for counseling. With nine years of experience and training, Natolie is passionate about working with adolescents, women, parent and child relationship issues and communication and conflict issues with couples.
Natolie Gray posseses a unique gift and a sincere passion for counseling. With several years of experience as a therapist, and as a graduate of Webster University, she is currently serving as private practitioner working with a broad spectrum of clients. She is passionate about working with adolescents, women and couples. Natolie is an interactive therapist. Her therapeutic approach is to provide support and practical feedback to help clients effectively address personal life challenges. She integrates complementary methodologies and techniques to offer a highly personalized approach tailored to each client. With compassion and understanding, she works with each individual to help them build on their strengths and attain the personal growth they are committed to accomplishing.
Natolie focuses on highlighting any conflicts in your beliefs that may be creating an impasse or stalemate situation. She maintains a private practice in Lawrenceville. She offers evening and weekend appointments to accommodate your scheduling needs. She is honored to collaborate with you to accomplish your goals and move forward on your life journey. In addition, Natolie enjoys spending time with family and friends and the freedom and beauties of life. She is wife and a mother of two children.
Webster University- Masters of Arts
Licensed Professional Counselor
Member of the Licensed Professional Counselor Association (LPCA)
Please call (770) 771-8208 to schedule an appointment.
1840 Old Norcross Road, Suite 300
Lawrenceville, GA 30044